"Spiritual Masters Immersion" ~ Le Nordik Feb 26 – Mar 2, 2017.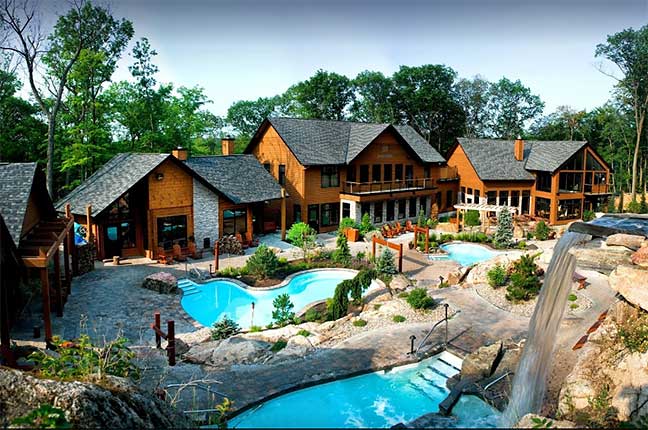 Weeks before the last breath of his body, Ramana said,
"They say that I am dying, but I am not going away. Where could I go?"
To understand this, we must dive deep into the living teachings.
Out of these Spiritual Masters…
Ramana Maharshi (~ "I am not the perishable body, but the eternal Self.")
Papaji (~ "Nothing arises without Self. All existence is one in one's own Self.")
Nisargadatta Maharaj (~ "The mind creates the abyss, the heart crosses it.")
Bankei (~ "Abide as the Unborn.")
…if you could, which of them would you pick to…
1) ask a question of
2) have a meal with
3) meditate with
Got your choice?
What if I could make that happen, by bringing the wisdom
and teachings of your revered Spiritual Master to life?
What if I took things way further…
And took you on a deep-dive into the heart of ALL the
Spiritual Masters above, where you can ask all your questions
—at a luxurious healing spa? Moment by moment,
meal by meal, inquiry by inquiry, meditation by meditation.
Because that's what I am about to do :).
Imagine being immersed in the spacious, peaceful, and
powerful presence of timeless spiritual truths, that were
gifted to us by these gurus…
For five days.
At Le Nordik Spa…
Le Nordik is its own experiential wonderland—a thermal
spa with therapeutic wet and dry saunas, healing warm
and cold pools; and elegant healthy meals, set in nature
in the Gatineau Hills of Quebec.
The largest spa in North America, Le Nordik is famously
known for being a place for well-being and extreme relaxation.
When I was struggling with the ego, I had questions
I wanted to ask of a Spiritual Master, but could not do so,
as there was no one available. So I know how you feel…
I felt frustrated, trapped, and stuck.
Yet I found a way to Truth–and to the end of that pain, anyway. 
On this trip, I'll show you what I discovered, that the
Spiritual Masters and their teachings are always available
to you, here and now, so that even after you leave Le Nordik,
you will know that the Truth and Reality exists in all places,
and is available at all times.
But this trip isn't for everyone. Are you tired of trying hard
at spiritual development and don't understand why it has
not paid off? Have you tried every spiritual method, music,
meditation, chant, lotion and potion… and noticed that
none of it has led to real or lasting results?
Are you are ready for the real, and for a final end to the
sense that "something is missing"?
This trip is not for you if you are not willing to question
and open past the mind and its concepts. If you are a
frustrated spiritual seeker who wants to be done with
the voice in the head (a.k.a. the ego), and you want to
know the essential truth of your eternal existence
—then this trip is for you.
Experience timeless truths and potent, intimate
inquiry with me and a limited number of other sincere
seekers like you.
This is your chance to uproot old negative patterns,
drop the ego, clear the clouds from the mind, discover
unlimited peace and joy, and bring forward and clear
all your doubts and questions …and maybe even
recognize the final, absolute, freeing Truth of who
you really are.
If this is what you want, then you are someone that
I want to be around, invest in, and do everything I can
to show you what you seek.
On this unparalleled and rare opportunity, you will
fundamentally question and transcend the false
baggage we've been taught to call "me."
For five days, immersed in Truth, you can align with
it and know your true identity—that you are already
Buddha/Christ/Krishna—the Immaculate Eternal Infinite.
Not as merely a nice thought, but you can
"know it in your bones," as sincere seekers desire.
Unlike "spiritual vacations," you won't just have a
"mountain-peak experience" that will fade when you
leave, or in two weeks time.
There is nothing like this anywhere.
Here's how it will all unfold:
On February 22th, you'll arrive in Ottawa, Canada.
There will be a car waiting for you to take you to our
four-star chalet, where Kai and I will welcome you
and give you a tour of the spa and its offerings.
We strongly suggest starting with a soak or steam
before we gather for dinner. 🙂
Every morning begins with gentle yoga, and the
opportunity to meditate with me.
I am always available for spontaneous questions,
at meals or fireside chats…
You become acquainted with the Spiritual Masters
on the first day, and begin to delve deeply into their
core teachings. Exploring the miraculous truth of
your actual experience, versus the mind's imaginative
thoughts about reality–you are liberated.
The deep heat goes all the way to your bones,
as you release, relax and fully surrender to the
Nordik thermal experience, recovering and resting
by the fires or in sleeping areas.
You eat well, sleep well, smile often, and enjoy
discovering the joy that is your eternal right of Being.
Imagine this all happening, accompanied by the
living wisdom of all those Spiritual Masters,
available to you here and now.
Sound amazing?
Yeah, but we're still not done…
Day two, you get to explore the full thermal
experience of the many regenerating baths and
therapeutic saunas, including the Aufgas ritual
(a Finnish sauna tradition that incorporates
movement and essential oils), and Tellura
(a Japanese heat therapy tradition where you
relax on warm stone beds).
While immersed in this environment designed
to eliminate distractions, you will master a
Two-Minute Technique to Inner Peace that
will serve you any place, any time, for the
rest of your life.
In this relaxed, intimate setting we will look
together at what's actually going on here,
and who you really are.
Along the way, you will directly discover, apply,
and embody the five powers you were born with,
but which have been wrecking unconscious
havoc in your life.
On the third day, you'll float nearly bodiless,
in a "Kalla" treatment—as you descend into
an underground salt pool dug into the rock
and saturated with Epsom salt, for an
extraordinary experience of weightlessness
in the still depths.
Better than the Dead Sea, the Kalla is a
blissful experience of floating in pure water
perfectly balanced with magnesium salts.
For many, this is an experience of the deepest
possible relaxation.
We'll talk about body identification and our
true nature, and use the Kalla experience
as an uncommon opportunity to look at the
nature of your relationship with the body.
Day four, you may opt to experience the
Nordik's extra massage and body treatment
offerings. Engage with me one-on-one in the
fireside talks, where you may ask any
lingering questions and I will speak to
your concerns or frustrations, to facilitate
personal breakthroughs.
Day five you may join me for meditation and
gentle yoga, and we will gather for one last
breakfast, morning dip into water delights,
and a fireside chat.
When you combine the healing wonders of
water, essential oils, and heat with timeless
truths from Spiritual Masters and the ever-
present Truth and Reality right here and now…
You have a once-in-a-lifetime "bucket list" experience…
(An experience I'm not sure will be offered again,
because of the intensive amount of work and time involved.)
You see, the whole trip, you have access to the
teachings of the Masters, and to me, so you can
immerse in and access the release, love, and
peace that comes with truth, whenever you want.
After all, time, and life, are short.
So if you are interested, here's what to do next:
Below is a link to an application.
Coming to this experience, you will be holding space
for Truth for yourself and others, and I just want to be
sure that you will recognize and honour that, and so
we have an application process.
One fair warning before you apply – it's an expensive
experience. Making all this happen isn't cheap or easy,
but you already knew that.
So with that in mind, here's the link…
Go apply now if you are interested, because it's first come, first served…
See you at the spa of spas!
CLICK HERE to apply for "Spiritual Masters Immersion ~ Le Nordik."
(February 26-March 2, 2017)
Talk soon,
Cindy
PS–Oh, and one more thing, this experience includes bonus surprises 🙂
That's all I can say for now…
Click here to apply to join me at Le Nordik!
PSS–Couples welcomed 🙂
"Do understand that you are destined for enlightenment.
Co-operate with your destiny, don't go against it, don't thwart it.
Allow it to fulfill itself. All you have to do is to give attention to
the obstacles created by the foolish mind." ~ Nisargadatta Maharaj